{event.name}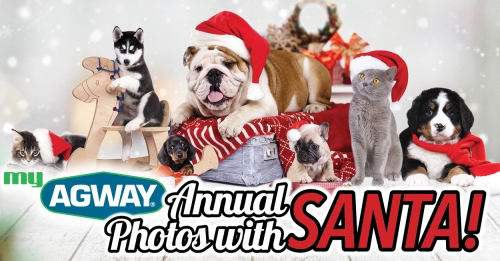 Save the Date - Photos with Santa 2019, Day 1
12/1/19 10:00am - 3:00pm
Save the Date for 2019
Everyone's favorite event is back for another year at myAGWAY. Pets in all shapes and sizes will sit on Santa's lap to tell him what they really want this year, and their humans will "ooh" and "ahh" over all the adorableness. The photo is Free, and a fun way to reach out to family & friends in 2019 greeting cards.
In addition to the free photo, everyone who uses our online form to RSVP will be entered to win a $50 myAGWAY Gift Card* — Plus, all attendees will receive a Free Gift Voucher for a $10 myAGWAY Gift Card*.
See & Share all the fun at:
#myAGWAYPhotosWithSanta or #myAGWAYpets
2 convenient dates at all myAGWAY locations:
Sunday, Dec 1st, 2019
Saturday, Dec 7th, 2019
10am - 3pm
* No purchase necessary. myAGWAY employees and family members are not eligible for raffle or gift voucher. Gift card voucher must be redeemed on the same day as issued. $10 gift card must be used prior to 12/31/19. One gift card voucher given per customer, per day, per household. Vouchers may only be issued onsite, in a participating myAGWAY location upon completion of sign-in for Santa Photo event. Raffle winners will be chosen and announced by 12/24/19. See store for details.