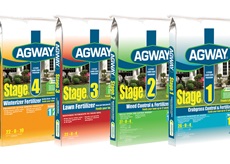 Do you want a lush, healthy lawn without paying professional landscapers high fees for just minutes of work every few weeks? The Agway Stage 4 Program can provide your lawn with the optimal blend of nutrients to meet its seasonal needs and keep your grass rich and green while improving water retention, strengthening the root system and resisting weeds. Specially formulated for your lawn, this easy program is one you can apply to your lawn yourself, and you'll soon be enjoying the beauty of a stunning lawn.
Stage 1: The Seed Starter Fertilizer Plus Crabgrass Preventer is the first stage of this lawn care regimen and is applied in early spring to help prevent crabgrass from sprouting and to enrich your lawn after winter, making it ready for good spring growth.
Stage 2: The Weed Control and Fertilizer application is given to your lawn later in spring or early summer and is specially designed to maximize root strength and minimize broadleaf weeds, including dandelions, getting your lawn to its strongest before summer's peak.
Stage 3: The long-lasting fertilizer of this stage nourishes your lawn throughout the rigors of summer, from long, hot days to heavy use by pets and children. This application is meant for late summer and early fall, just when your lawn gets the most use.
Stage 4: This last stage preps your lawn to withstand winter by building hardy roots. Applied after the last mowing of the season, this is a winter fertilizer ideal for keeping your lawn healthy through the winter.
All stages must be applied evenly over your lawn, using a spreader and adjusting the application for your lawn's size and type. Raking your lawn and removing debris, leaves and clippings prior to the application will help it be most effective, and the lawn should be thoroughly watered within 3-7 days after the application, depending on your local climate and overall lawn moisture levels, including seasonal rains.
Need more tips to give your lawn new life? Ask your local Agway deal to help you get started with the Agway 4 Stage Program and for other advice to keep your lawn beautiful and healthy!